As an authorized partner of Microsoft we create software based on Microsoft's products.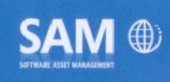 August 26, 2015 we received the Microsoft SAM certificate issued by the Director Microsoft intellectual Property Protection Sp. Z oo
Software Asset Management (SAM) is a best practice incorporating a set of proven processes and procedures for managing and optimizing your organization's IT assets. Implementing SAM protects your software investments and helps you recognize what you have, where it's running, and if your organization is using your assets efficiently.